Tuesday, 21 May 2013 | Weather temperature and relative humidity at Beytepe now 24.2 °C, 32%
Hacettepe University, Department of Electrical and Electronics Engineering
"Celebrating the 20th year of Hacettepe University's first Web site..."
Our department's faculty member Dr. Emre Aktas receives HU Incentive Award in Science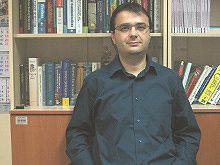 In accordance with "Hacettepe University Awards Directive", "Service, Arts and Sciences Awards" are bestowed annually on the faculty members whose scientific or artistic works are accomplished and awarded in national and/or international platforms.
>> Read more...
Reminder...
End of the spring-term courses...
09 June 2013
Sunday
©1993-2013 Hacettepe University Department of Electrical and Electronics Engineering, Beytepe Campus, 06800 Ankara, Turkey
Phone: +90 312 297 7000 | Fax: +90 312 299 2125 | E-Mail: info@ee.hacettepe.edu.tr