Saturday, 18 May 2013 | Weather temperature and relative humidity at Beytepe now 21.7 °C, 45%
Hacettepe University, Department of Electrical and Electronics Engineering
"Celebrating the 20th year of Hacettepe University's first Web site..."
Our researchers receive TTGV Dr. Akin Cakmakci Thesis Award
24 April 2012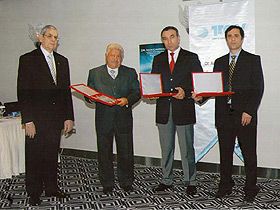 Dr. Kurulus Erinc Akdogan and his PhD supervisor Dr. Atila Yilmaz, our department's faculty member, received "Dr. Akin Cakmakci Best Thesis Award" in a ceremony organized by Technology Development Foundation of Turkey (TTGV).
On April 19th, 2012 The Technology Development Foundation of Turkey held an award ceremony in Bilkent Hotel Conference Center, Ankara. One of the 10 recipients of "The 4th Dr. Akin Cakmakci Best Thesis and Foundation on University - Industry Collaboration Awards" was a PhD dissertation run in our department. It is titled "Design and Comaparison of Electronic Above Knee Prostheses Employing Pneumatic and MR Cylinders by Motion Measurement Systems" and realized by Dr. Kurtulus Erinc Akdogan. The dissertation was supervised by our faculty member Dr. Atila Yilmaz and sponsored by OrtoTEK Prosthetics and Orthotics Ltd.
The event aims to encourage research and development activities performed by the universities to be commercialized.
You may click the event's own web link "http://tezodulu.ttgv.org.tr" (in Turkish only) to get more information.
We express our congratulations to our researchers.
Hacettepe University
Department of Electrical and Electronics Head Office

©1993-2013 Hacettepe University Department of Electrical and Electronics Engineering, Beytepe Campus, 06800 Ankara, Turkey
Phone: +90 312 297 7000 | Fax: +90 312 299 2125 | E-Mail: info@ee.hacettepe.edu.tr