Thursday, 23 May 2013 | Weather temperature and relative humidity at Beytepe now 19.3 °C, 38%
Hacettepe University, Department of Electrical and Electronics Engineering
"Celebrating the 20th year of Hacettepe University's first Web site..."
Our faculty member Prof.Dr. Adnan Koksal awarded by Turkish Academy of Sciences for his textbook translation
06 June 2011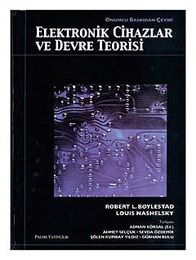 Our faculty member Prof.Dr. Adnan Koksal has recevied "University Textbook Translation and Copyrights Award" as the editor of Turkish translation of "Electronic Devices and Circuit Theory, 10th Ed., R. L. Boylestad, L. Nashelsky, 2009)" from the Turkish Academy of Sciences (TUBA), one of the most prestigious scientific foundations in Turkey.
TUBA has been organizing this award program annually since 2007 to encourage university-level textbooks to be written in Turkish language at international standards, as well as fine and complete Turkish translations of internationally acclaimed textbooks from a wide range of subjects.
TUBA is a scholarly society founded in 1993, attached to the office of the Prime Minister with administrative and financial autonomy, and headquarters in Ankara. Its aims are to establish the criteria of scientific excellence in Turkey, to encourage and foster scientific endeavours, to ensure that scientific principles be applied in all spheres and to create an environment of debate so that basic social strategies may be defined in the light of scientific and technological data.
For more information on this award program, please click THIS LINK from the TUBA's own web site.
We express our congratulations to Prof. Koksal and the translators Mr. Gurhan Bulu, Mrs. Sevda Ozdemir, Mr. Ahmet Selcuk and Mrs. Solen Kumbay Yildiz for their success.
HU Department of Electrical and Electronics Engineering
Head Office
©1993-2013 Hacettepe University Department of Electrical and Electronics Engineering, Beytepe Campus, 06800 Ankara, Turkey
Phone: +90 312 297 7000 | Fax: +90 312 299 2125 | E-Mail: info@ee.hacettepe.edu.tr