Friday, 24 May 2013 | Weather temperature and relative humidity at Beytepe now 19.6 °C, 43%
Hacettepe University, Department of Electrical and Electronics Engineering
"Celebrating the 20th year of Hacettepe University's first Web site..."
IXth METU Robot Days competition's second runner-up award goes to our undergraduate student Mr. Baris Togrul
28 March 2012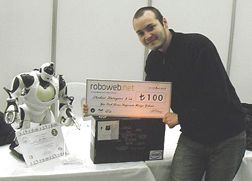 Our undergraduate student and Hacettepe University Robotics Student Society member Mr.Baris Togrul's project IRIS received the Second Runner-up Award at free style category of the organization "The IXth METU Robot Days".
The project's title was "Sensing depth with a single camera".
The organization was held by Middle East Technical University, Turkey, on March 17-18, 2012 in METU Cultural and Convention Center.
For detailed information please click the organization's own web site: http://odturobotgunleri.org.tr
We express our congratulations to Mr. Togrul for his success.
HU Department of Electrical and Electronics
Head Office
©1993-2013 Hacettepe University Department of Electrical and Electronics Engineering, Beytepe Campus, 06800 Ankara, Turkey
Phone: +90 312 297 7000 | Fax: +90 312 299 2125 | E-Mail: info@ee.hacettepe.edu.tr