Monday, 20 May 2013 | Weather temperature and relative humidity at Beytepe now 14.3 °C, 74%
Hacettepe University, Department of Electrical and Electronics Engineering
"Celebrating the 20th year of Hacettepe University's first Web site..."
Our senior students awarded first runner-up in the Engineering Faculty's Senior Design Project Competition
21 May 2012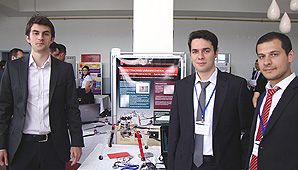 For last nine years, Hacettepe University's Faculty of Engineering has been organizing an exhibition where the graduation projects of senior students of engineering departments take place and compete.
This year, the exhibition was held on May 17th-18th, 2012 in Beytepe Campus, and amongst all projects, our department's "Target Tracking Unmanned Aerial Vehicle" received first runner-up award based on jury votes.
The project was realized by senior students Mr. Mustafa Boyaci, Mr. Mehmet Ipek and Mr. Mehmet Sami Tok under the supervision of Dr. Emre Aktas.
You may go to the HU Faculty of Engineering's web site for detailed information about the event.
We express our congratulations to our students for their success.
Hacettepe University
Department of Electrical & Electronics Engineering
Head Office
©1993-2013 Hacettepe University Department of Electrical and Electronics Engineering, Beytepe Campus, 06800 Ankara, Turkey
Phone: +90 312 297 7000 | Fax: +90 312 299 2125 | E-Mail: info@ee.hacettepe.edu.tr