Friday, 25 July 2014 | Weather temperature and relative humidity at Beytepe now 27.7 °C, 34%
Hacettepe University, Department of Electrical and Electronics Engineering
"Celebrating the 21st year of Hacettepe University's first Web site..."
Our senior students win first prize at the HU Faculty of Engineering's Senior Design Project Competition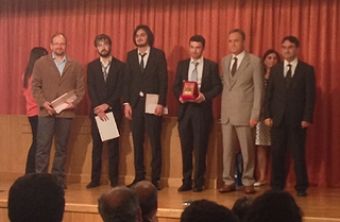 For last eleven years, Hacettepe University's Faculty of Engineering has been organising an exhibition where the graduation projects of senior students of engineering departments take place and compete.
>> Read more...
Reminder...
Religious Holiday (Ramadan)...
July 27th, 2014
Sunday
©1993-2014 Hacettepe University Department of Electrical and Electronics Engineering, Beytepe Campus, 06800 Ankara, Turkey
Phone: +90 312 297 7000 | Fax: +90 312 299 2125 | E-Mail: info@ee.hacettepe.edu.tr