Friday, 13 December 2013 | Weather temperature and relative humidity at Beytepe now -4.6 °C, 65%
Hacettepe University, Department of Electrical and Electronics Engineering
"Celebrating the 20th year of Hacettepe University's first Web site..."
Prof. Dr. Adnan Koksal awarded by Turkish Academy of Sciences for his textbook translation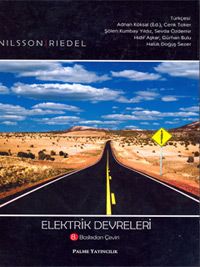 Our faculty member Prof. Dr. Adnan Koksal has recevied "University Textbook Translation and Copyrights Award" as the editor of Turkish translation of "Electric Circuits, 8th Ed., J. Nilsson, S. Riedel, 2008)" from the Turkish Academy of Sciences (TUBA), one of the most prestigious scientific foundations in Turkey.
>> Read more...
Reminder...
01 January 2014
Wednesday
©1993-2013 Hacettepe University Department of Electrical and Electronics Engineering, Beytepe Campus, 06800 Ankara, Turkey
Phone: +90 312 297 7000 | Fax: +90 312 299 2125 | E-Mail: info@ee.hacettepe.edu.tr