Thursday, 31 July 2014 | Weather temperature and relative humidity at Beytepe now 27.1 °C, 35%
Hacettepe University, Department of Electrical and Electronics Engineering
"Celebrating the 21st year of Hacettepe University's first Web site..."
Solar energy panels to supply power to our department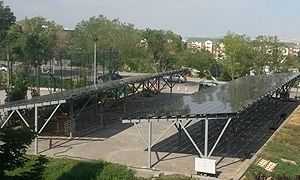 A parking lot next to our department has been converted to a power station after it was covered from the top by solar cell panels.
>> Read more...
Reminder...
End of the summer-term courses...
August 24th, 2014
Sunday
©1993-2014 Hacettepe University Department of Electrical and Electronics Engineering, Beytepe Campus, 06800 Ankara, Turkey
Phone: +90 312 297 7000 | Fax: +90 312 299 2125 | E-Mail: info@ee.hacettepe.edu.tr