Friday, 31 October 2014 | Weather temperature and relative humidity at Beytepe now 9.3 °C, 87%
Hacettepe University, Department of Electrical and Electronics Engineering
"Celebrating the 21st year of Hacettepe University's first Web site..."
IONOLAB Project takes place in TUBITAK's Success Stories Book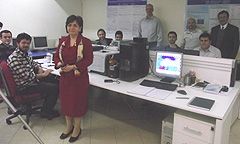 Our department's "Regional Automatic TEC Mapping and Monitoring" project took place in the Success Stories book of TUBITAK, the Scientific and Technological Research Council of Turkey.
>> Read more...
Reminder...
End of the fall-term courses...
December 30th, 2014
Tuesday
©1993-2014 Hacettepe University Department of Electrical and Electronics Engineering, Beytepe Campus, 06800 Ankara, Turkey
Phone: +90 312 297 7000 | Fax: +90 312 299 2125 | E-Mail: info@ee.hacettepe.edu.tr