Thursday, 23 May 2013 | Weather temperature and relative humidity at Beytepe now 18.1 °C, 45%
Hacettepe University, Department of Electrical and Electronics Engineering
"Celebrating the 20th year of Hacettepe University's first Web site..."
Department's Senior Design Project Exhibition to be held on June 5th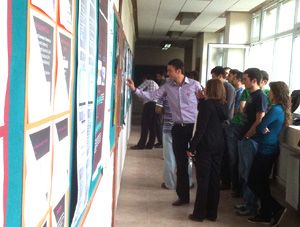 Our department's senior students will exhibit their design projects on Wednesday, June 5th, 2013 in the Telecom Laboratory and connected corridor.
>> Read more...
Reminder...
End of the spring-term courses...
09 June 2013
Sunday
©1993-2013 Hacettepe University Department of Electrical and Electronics Engineering, Beytepe Campus, 06800 Ankara, Turkey
Phone: +90 312 297 7000 | Fax: +90 312 299 2125 | E-Mail: info@ee.hacettepe.edu.tr