Friday, 06 March 2015 | Weather temperature and relative humidity at Beytepe now 11.5 °C, 80%
Hacettepe University, Department of Electrical and Electronics Engineering
"Celebrating the 22nd year of Hacettepe University's first Web site..."
ANNOUNCEMENTS
There are no current announcements. To see the past announcements of last twelve months please click the above "Archive" link.



Our department's research project recognized as a success story by TUBITAK and RFBR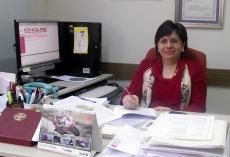 Joint TUBITAK (National Science Foundation of Turkey) 110E296 and RFBR (Russian Foundation for Basic Research) 11-02-91370-CTa project is recognized as a success story by both TUBITAK and RFBR.
>> Read more...
Reminder...
National Sovereignty and Children's Day...
April 23rd, 2015
Thursday
©1993-2015 Hacettepe University Department of Electrical and Electronics Engineering, Beytepe Campus, 06800 Ankara, Turkey
Phone: +90 312 297 7000 | Fax: +90 312 299 2125 | E-Mail: info@ee.hacettepe.edu.tr