Monday, 02 February 2015 | Weather temperature and relative humidity at Beytepe now 7.2 °C, 54%
Hacettepe University, Department of Electrical and Electronics Engineering
"Celebrating the 22nd year of Hacettepe University's first Web site..."
ANNOUNCEMENTS
There are no current announcements. To see the past announcements of last twelve months please click the above "Archive" link.



Solar energy panels to supply power to our department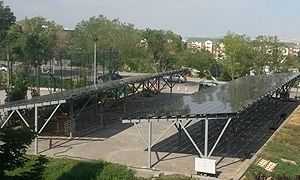 A parking lot next to our department was converted to a power station after it was covered from the top by solar cell panels. The production data are shared on our web site in real-time.
>> Read more...
Reminder...
Last day to pay tuition fees...
February 5th, 2015
Thursday
©1993-2015 Hacettepe University Department of Electrical and Electronics Engineering, Beytepe Campus, 06800 Ankara, Turkey
Phone: +90 312 297 7000 | Fax: +90 312 299 2125 | E-Mail: info@ee.hacettepe.edu.tr