SEMINAR: System identification of the dynamics of multisensory integration in freely swimming fish, Dr. İsmail Uyanık, Nov 30, 2022, 14:30
November 29, 2022
Our faculty and 2020 Ben Barres Spotlight Award winner Ismail Uyanik will discuss his lab's research on discovering the principles of sensorimotor control and multisensory integration in animals using novel techniques in system identification theory, neuroscience and robotics.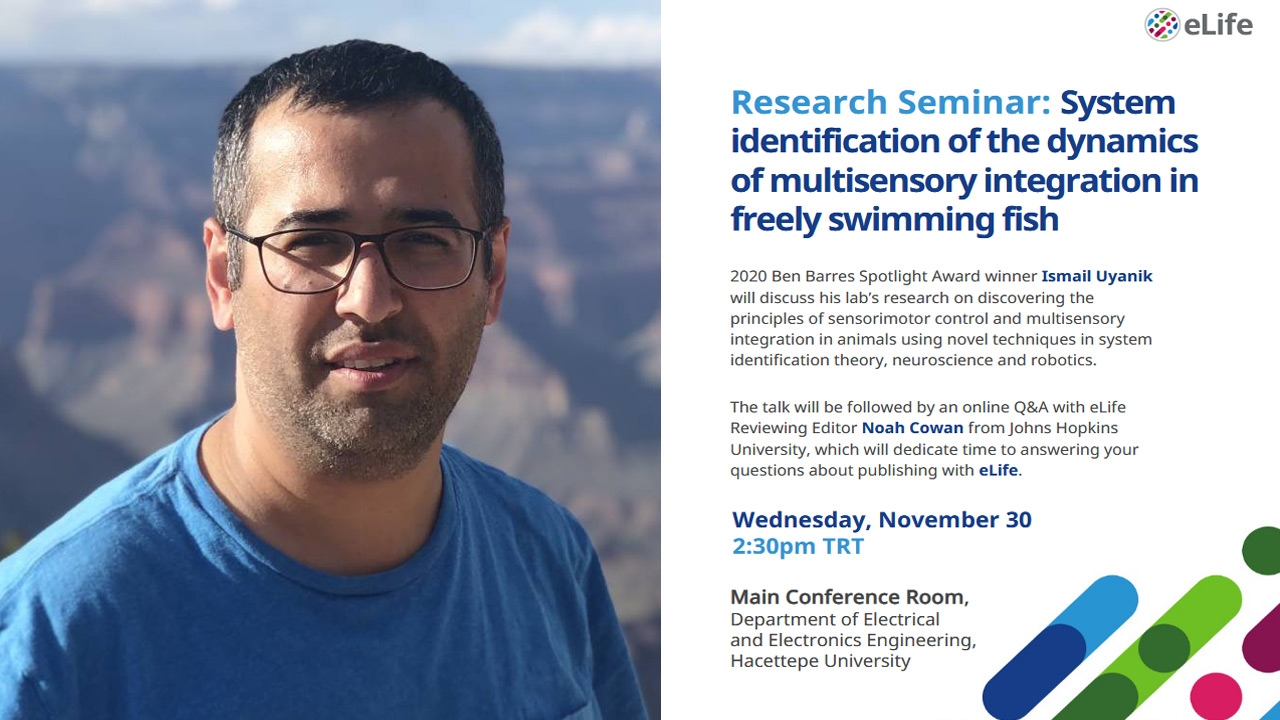 The talk will be followed by an online Q&A with eLife Reviewing Editor Noah Cowan from Johns Hopkins University, which will dedicate time to answering your questions about publishing with eLife.

Date: Wednesday, November 30, 2022
Time: 14:30
Place: Department's Conference Hall

Biography
Ismail Uyanik is an Assistant Professor of the Department of Electrical and Electronics Engineering at the Hacettepe University, Ankara, Turkey. He was a postdoctoral researcher in the Laboratory of Computational Sensing and Robotics (LCSR) at Johns Hopkins University from July 2017 to July 2019. He received his Ph.D. degree in Electrical and Electronics Engineering from Bilkent University in May 2017. Throughout his Ph.D. studies at Bilkent, he developed model-based and data-driven system identification methods for the analysis and control of legged locomotion. He also received his B.Sc. and M.Sc. degrees from the same department in June 2009 and August 2011, respectively. His current research focuses on discovering the principles of multisensory behavioral control in animals by developing novel techniques in system identification theory, neuroscience, and robotics. Dr. Uyanik is a recipient of the Marie Sklodowska-Curie Actions Individual Fellowship.